Especialistas en ciberseguridad reportan el hallazgo de una vulnerabilidad en los chips instalados en las llaves de seguridad Google Titan y YubiKey. Las vulnerabilidades reportadas permitirían a los hackers maliciosos obtener las claves de cifrado principales empleadas por estos dispositivos para generar tokens de cifrado y resolver desafíos de autenticación multi factor o, en otras palabras, clonar las llaves de seguridad.
A pesar de que la falla, identificada como CVE-2021-3011, suena grave, los expertos que la descubrieron informan que en realidad no es un problema tan severo. El primer problema para los potenciales actores de amenazas es que este ataque requiere acceso físico al dispositivo, por lo que es imposible el compromiso de forma remota. No obstante, los usuarios de estos dispositivos no deben desestimar la posibilidad de ataque ya que técnicas similares han demostrado ser exitosas en el pasado.
Por otra parte, los expertos reportan que las carcasas de estos dispositivos son prácticamente inviolables, ya que es muy complicado abrir los dispositivos sin dañar sus componentes internos: "Estas llaves de seguridad están compuestas por dos piezas de plástico unidas fuertemente entre sí; no es fácil desprenderlas con un cuchillo u algún otro artefacto". A continuación se muestran los modelos de dispositivos afectados:
Google Titan Security Key (all versions)
Yubico Yubikey Neo
Feitian FIDO NFC USB-A / K9
Feitian MultiPass FIDO / K13
Feitian ePass FIDO USB-C / K21
Feitian FIDO NFC USB-C / K40
En su reporte los expertos mencionan haber empleado una pistola de aire caliente para ablandar el plástico y extraer la placa de circuito impreso (PCB) sin dañarla. Sin embargo, fue imposible ensamblar de nuevo la llave sin que resaltaran a la vista los cambios, ya que el calor deformó el plástico.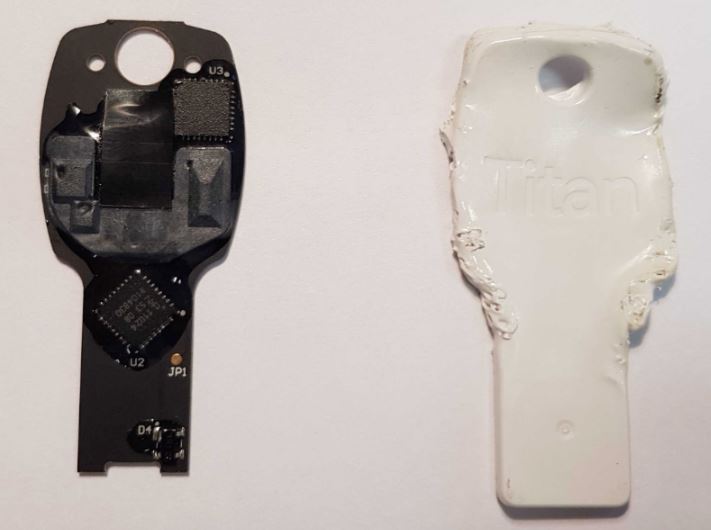 Finalmente, los especialistas mencionan que las herramientas de hardware y software requeridas para este hack son poco prácticas y muy caras, complicando aún más un posible ataque.
Si bien estos ataques están fuera del alcance de los hackers comunes, es completamente factible que las agencias de investigación puedan completar una campaña basada en este ataque: "Los usuarios que se sientan expuestos a estos ataques pueden cambiar sus claves de seguridad o bien recurrir a otros dispositivos", agregan los expertos.  

Trabajando como arquitecto de soluciones de ciberseguridad, Alisa se enfoca en la protección de datos y la seguridad de datos empresariales. Antes de unirse a nosotros, ocupó varios puestos de investigador de ciberseguridad dentro de una variedad de empresas de seguridad cibernética. También tiene experiencia en diferentes industrias como finanzas, salud médica y reconocimiento facial.
Envía tips de noticias a info@noticiasseguridad.com o www.instagram.com/iicsorg/
También puedes encontrarnos en Telegram www.t.me/noticiasciberseguridad
Is your business effected by Cyber Crime?
If a cyber crime or cyber attack happens to you, you need to respond quickly. Cyber crime in its several formats such as online identity theft, financial fraud, stalking, bullying, hacking, e-mail fraud, email spoofing, invoice fraud, email scams, banking scam, CEO fraud. Cyber fraud can lead to major disruption and financial disasters. Contact Digitpol's hotlines or respond to us online.
Digitpol's Cyber Crime Investigation Unit provides investigative support to victims of cyber crimes. Digitpol is available 24/7. https://digitpol.com/cybercrime-investigation/
Europe +31558448040
UK +44 20 8089 9944
ASIA +85239733884