Los equipos de seguridad de la firma tecnológica HP publicaron una alerta de seguridad para informar sobre tres vulnerabilidades críticas en HP Device Manager cuya explotación podría comprometer los sistemas afectados.
Acorde al reporte, la explotación encadenada de las fallas reportadas podría permitir a los actores de amenazas obtener privilegios SYSTEM de forma remota en dispositivos que ejecutan versiones vulnerables de HP Device Manager. La explotación permitiría a los atacantes desplegar ataques de diccionario, acceso no autorizado a recursos restringidos y escaladas de privilegios.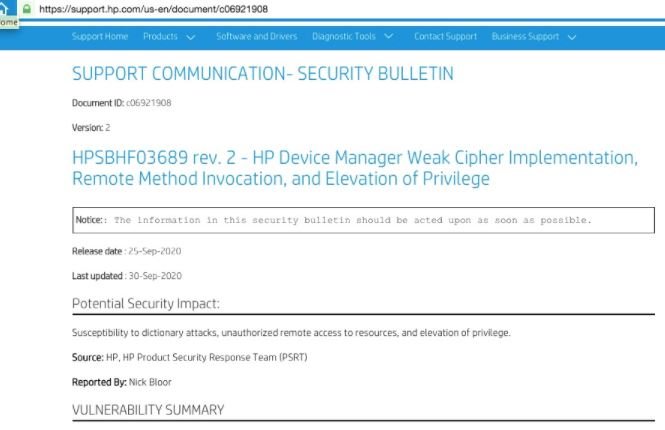 Las fallas fueron identificadas como:
CVE-2020-6925: Las cuentas administradas localmente se ven expuestas a ataques de diccionario debido a una implementación de cifrado débil. La falla afecta a todas las versiones de HP Device Manager
CVE-2020-6926: Una falla de invocación de método remoto en todas las versiones de HP Device Manager que permite a los actores de amenazas obtener acceso no autorizado a los recursos del sistema
CVE-2020-6927: Esta falla permitiría a los atacantes obtener privilegios SYSTEM a través de un usuario de base de datos de backdoor en la base de datos PostgreSQL
La última falla reportada no afecta a los clientes de HP que están usando una base de datos externa (Microsoft SQL Server) y no han instalado el servicio Postgres integrado, menciona el reporte.
Para mitigar el riesgo de explotación de CVE-2020-6927, los usuarios pueden descargar la versión 5.0.4 de HP Device Manager. Sobre las dos fallas restantes, la compañía aún no ha lanzado actualizaciones, aunque la comunidad de la ciberseguridad ha emitido algunas recomendaciones:
Limitar el acceso entrante a los puertos 1099 y 40002 del Administrador de Dispositivos a IPs confiables o solo localhost
Eliminar la cuenta dm_postgres de la base de datos de Postgres
Actualizar la contraseña de la cuenta dm_postgres dentro de HP Device Manager Configuration Manager
La implementación de estas medidas de seguridad podrá proteger de múltiples escenarios maliciosos a los usuarios potencialmente vulnerables.

Trabajando como arquitecto de soluciones de ciberseguridad, Alisa se enfoca en la protección de datos y la seguridad de datos empresariales. Antes de unirse a nosotros, ocupó varios puestos de investigador de ciberseguridad dentro de una variedad de empresas de seguridad cibernética. También tiene experiencia en diferentes industrias como finanzas, salud médica y reconocimiento facial.
Envía tips de noticias a info@noticiasseguridad.com o WhatsApp +525525766324.
También puedes encontrarnos en Telegram www.t.me/noticiasciberseguridad
Is your business effected by Cyber Crime?
If a cyber crime or cyber attack happens to you, you need to respond quickly. Cyber crime in its several formats such as online identity theft, financial fraud, stalking, bullying, hacking, e-mail fraud, email spoofing, invoice fraud, email scams, banking scam, CEO fraud. Cyber fraud can lead to major disruption and financial disasters. Contact Digitpol's hotlines or respond to us online.
Digitpol's Cyber Crime Investigation Unit provides investigative support to victims of cyber crimes. Digitpol is available 24/7. https://digitpol.com/cybercrime-investigation/
Europe +31558448040
UK +44 20 8089 9944
ASIA +85239733884